Black Lightning premiered and everyone as far as the eye could see gave it a standing ovation. I'm still clapping. This TV show is not your regular scheduled superhero programming folks; Black lightning is superherodom meets the real world. There's no preliminary superhero struggle; no contemplation about getting a suit or if Black Lightning should have a cape.
Black lightning's problems are relatable and relevant. We're talking racial injustice, gang violence, fatherhood, family life, and the everyday struggles of trying to live your best life.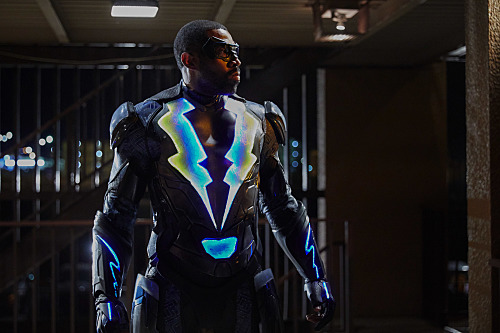 Spoilers Ahead
The first episode introduces Jefferson Pierce (Cress Williams) as the former superhero, Black Lightning, who hung up the suit for 9 years to become a principal, father, and all around family man. This scenario, in itself, is a step away from the traditional superhero that is usually younger and has little responsibility other than to save the day.
This first episode is also different from the self-exploration that we are used to with superheroes that are just discovering their powers. We have no idea what prompted Pierce into the suit, and we never get to see him learn how to control electricity, and I'm okay with this. It's refreshing not having to watch the painful process of being a newbie, and it leaves the opportunity open for the show to revisit Pierce's origins.
Pierce is pushed back into being a superhero by many triggers. First, he's stopped multiple times by police and his daughter Anissa (Nafessa Williams) had recently been arrested for a protest gone wrong. Pierce's tailored suit, professional disposition and speech, and visible family car do not spare him from a rough police interrogation when they claim that he matches the description of a robber.
We briefly see the electricity flash in his eyes, but he keeps his cool. Did I mention his daughters were in the car? These scenarios magnify the ongoing issues within our society, and the fact that Pierce is a black man and we are viewing this through his eyes brings a much-needed understanding of the subject. This episode goes out to those that claim they do not see racism and struggle to comprehend the black communities' plights.
If you think dwelling on anger is Black Lightning's thing because it's what we would expect from a superhero with injustices at hand, guess again. These events are not enough to push Pierce back into the crime-fighting world. He's striving to get his wife, Lynn (Christine Adams), back into his life full force. The reason they were even separated was that she couldn't handle him coming home bloodied up every night.
So, donning the suit again isn't what he wanted to do, not even for some temporary justice. The straw that broke the camel's back is that Jennifer, who is a teenager dying to shed her goody-two-shoes reputation, hangs out with a member of the local 100 gang, and gains an unwanted stalker.
Jennifer's new gang member friend barely hung out with the girl for more than three hours and acted as if she owed him her life. A bruised ego and toxic masculinity continue to influence the gang member as he continues to insist on harassing Jennifer even though she's made it clear that she wants nothing to do with him.
Inevitably Pierce is introduced into the situation.  As a principal, Pierce has made negotiations with the local gangs to make sure that his school is safe. This includes his daughters, one of which is a teacher. But this one member, who is the cousin of Pierce's primary contact, changes their arrangement and forces Black Lightning to handle business for his family and community.
The fighting and electric action is nothing short of Arrow and Flash greatness. They did not disappoint. So in the midst of discovering that our superhero has a lot of weight on his shoulders, we still get the butt-kicking action of a DC comic based TV show.
And as the episode comes to a close, we discover that there's someone higher up in the 100 gang ranks to worry about named Tobias Whale (Marvin "Krondon" Jones III). The good news is Annisa shows she's indeed daddy's little girl and breaks her bathroom sink when her powers kick in.
Here are some thoughts on the episode "The Resurrection":
Pierce's role as a father and educator goes beyond anything that's been portrayed when he and his daughter start making points to each other by quoting civil rights leaders. Bet you've never seen that on a show before.
I was shipping Pierce and Lynn from the first time they were on screen together. These two do not act like they're separated. They need to stop it and get back together.
One of the critical points of the gang interference is to show how a seemingly ordinary family that is going about their business could get caught in the middle of something they know nothing about. A critical topic as it is stereotyped that crime happens mostly to individuals involved in criminal activity.
Pierce's gang contact Latavius, who prefers the moniker LaLa (LMAO), introduces a passive-aggressive, tough love dynamic with his son that left me confused. His son, Malik, was well spoken and polite and there seemed to be some warm fatherly residual love, but Lala is mostly rough with the child and is borderline abusive.
I never used the word VIGILANTE anywhere in this review (except for here). Black Lightning is a superhero, crime fighter, electric butt-kicker. As pointed out in the show, Vigilante has negative connotations of criminal.
What did you get from watching Black Lightning? Comment below or message me here ->
Email: fabulouslyentertaining [at] gmail [dot] com
Twitter: @Eisfabulous or @FabulouslyEnt
Facebook: Facebook.com/FabulouslyEntertaining
Google+: google.com/+Fabulouslyentertaining
Instagram: FabulouslyEntertaining